The need to develop and introduce solutions in the integrated renewable energy system, which effectively generate a high positive climate impact is immense. Particularly in the current challenging times. But how do we know which innovation fields to focus on when initiating RDI-projects? How can we make sure we are developing solutions that can actually be integrated in the real world? How do we test and determine the impact an innovation can generate when launched on to the market? How do we best prepare these solutions to enter the market quickly but smoothly? And what can Green Energy Lab do to support and enable solution developers to tackle these challenges? How can Green Energy Lab act and strengthen its role as a catalyst for high impact change?  These are the exciting and challenging questions we posed and thoroughly discussed at this year's Strategic forum. A big thank you to all our experts for sharing their experiences, knowledge and ideas with us!
What is the Strategic Forum?
The Strategic Forum is our annual strategy and agenda setting event, merging the expertise of our two advisory bodies, the Stakeholder Circle and Steering Group to define the focus of our activities in the upcoming year and to check whether we are on the right long-term track to foster Green Energy Lab's role and impact as a catalyst for the green energy transition.
The Steering Group is a panel of 16 members, which may be considered as a selection of Austria's Best along the innovation chain. This body encompasses representatives from R&D institutions, energy supply companies, energy agencies, administrative representatives, and technology companies. Its main role is to support us in the selection of new projects to join our dynamically growing project portfolio and strategically advise us on a more day-to-day basis.
The Stakeholder Circle on the other hand consists of international high-level experts who advise the Green Energy Lab on its long-term strategic development.
Global perspective on high impact innovation
At our Strategic Forum we had the pleasure to additionally receive an expert's perspective on impact innovation on a more global scheme looking beyond our "Austrian bubble". Kavita Surana, investor and researcher in technically grounded solutions for climate change, sustainability, and other societal challenges, highlights: "Not all technologies are equal. In order to identify which innovation can actually generate a lasting, high impact, we need to ask ourselves: If it works, will it matter? Let's assume a technology is well-researched, working, ready for market launch and scaling – what is the actual emission reduction we expect to get on a global level? This is the way we can meet our climate targets – we need to think big and expand globally."
A brief overview of Kavita's inspiring input can be found here.

Green Energy Lab's strategic feedback loop – enabling high impact innovation
Our internal strategic processes continually benefit and thrive on the valuable input we receive from experts at our Strategic Forum. With the ambition to strengthen our role as a catalyst for high impact change and as accelerator for the energy transition, we have identified three key elements, we want to leverage on and develop further: the Green Energy Lab Foresight, Impact Analysis and Market Transfer.
Foremost, one of the results we gathered over the years and the basis for our decision making is our strategic feedback loop, which illustrates how all key elements for enabling high impact innovation fit seamlessly into a bigger picture, interlinking and consequently creating an ideal basis for our continuous development and improvement.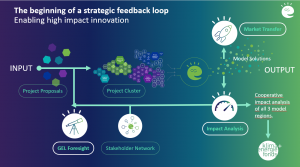 One of our most valuable asset is our project portfolio, which generates innovative model solutions for tomorrow's energy system. Subsequently the model solutions form the reference base for our impact analysis, which captures and quantifies the contribution each individual innovation but also the Green Energy Lab as a whole makes towards reaching climate targets and ultimately combating climate change. With our activities, we strive to ensure that highly relevant solutions advance beyond the pilot stage, towards market applications, so they can actually contribute to environmental and climate protection goals as well as the resilience of energy distribution grids. We therefore share all project outputs and knowledge gained from evaluating model solutions with our stakeholder network, in order to receive further strategic advice and valuable input for development. This is particularly important for our planned foresight services, which we will conduct with the ambition to select the right innovation topics for future Green Energy Lab projects and to provide a good basis for agenda setting in energy innovation.

Key takeaway for our activities in 2023
In sharing sessions, we then took deep dives into all three of our current key elements for development: Our Impact Analysis, the Green Energy Lab Foresight, and Market Transfer. Together we wanted to identify what elements specifically to focus on in the upcoming year and which actions to take. Thanks again for all the valuable input! What were our key takeaways you might ask?
Impact Analysis is a very hot topic discussed globally, but particularly on a European level. A lot of initiatives are currently establishing guidelines and institutions are developing frameworks to capture and depict impact. We, as individual players, do not have to "reinvent the entire wheel" but can all benefit from experience sharing and collaboration. For this, we  decided to join forces with the two other Austrian energy flagship regions to collaborate in developing a more extensive and richer impact analysis.  This will be a main focus of our activities in the upcoming year, and we are excited to publish the first results from our newly developed impact analysis by the end of 2023!
Our first foresight cycle is coming to an end and we are excited to share that the first edition of our Green Energy Lab RadarView will be published in the upcoming weeks. Stay tuned!
To decide which topics and innovation fields to focus on in the upcoming year, we presented five hypotheses and entered a lively discussion with our experts. It became evident that especially those innovation fields, which act as enabler technologies and can trigger strong positive stimuli in other innovation fields, were primarily important. These include topics such as smart energy grids and data-driven processes, but also flexibility in energy systems. Circular economy as a research field also deserves high attention, especially in light of the adverse raw material situation in Europe. We cannot wait to dive into these exciting topics with our foresight activities in the next year!
Supporting projects when it comes to the actual market transfer of their developed solution, and hence closing the gap between research and market will become an even more integral part of our activities. For this reason, we introduced our new format of a so called "Market Readiness Pitch". This allows project leads to present their results to our executive board from an exclusive market perspective. Again, Green Energy Lab serves as enabler and assists project leads with developing a pitch deck and providing insights into innovative business modelling. Following a friendly customer approach, solution developers receive valuable qualified feedback from our board. As some exciting projects from our dynamically growing portfolio are coming to an end in the upcoming year, we are looking forward to offer these services and more and more high impact solutions together!